English
QATAR AIRWAYS UNVEILS EXCLUSIVE ARTISAN AMENITY KITS FOR PREMIUM TRAVELLERS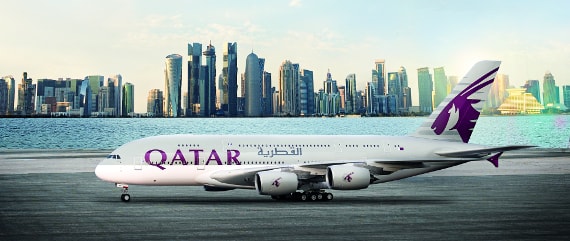 DOHA, Qatar – Qatar Airways has introduced signature Nappa Dori amenity kits on board for all of its premium passengers travelling on short and medium haul flights. The artisan brand, Nappa Dori, which has gained global recognition for its luxury handcrafted travel and fashion accessories, has created bespoke amenity kits that celebrate the airline's global network by featuring images from the more than 150 destinations Qatar Airways serves.
Qatar Airways is the first airline to launch an exclusive worldwide partnership with Nappa Dori, the New Delhi-based brand, and is one of the only international airlines to offer amenity kits to its premium passengers flying short distances from Doha.
Together the two innovative brands have combined vintage and contemporary styles to create unique canvas amenity kits that currently feature one of three iconic cityscapes, Doha, Paris, and London. The new amenity kits are available on board all Business and First Class flights flying to destinations within five hours of the airline's awards-winning hub and home, Hamad International Airport.
The amenity kit exclusively features lip balm from Italy's Castello Monte Vibiano Vecchio, the environmentally friendly olive oil company, as well as socks and eyeshades. The travel accessory designs are available in four different styles and will be refreshed every few months to ensure frequent travellers can add new keepsake bags to their collection.
Qatar Airways Group Chief Executive, His Excellency Mr. Akbar Al Baker, said: "Nappa Dori, like Qatar Airways, is a business that prides itself in providing its customers with superb and unique products and invests in quality and service to create an exceptional experience for the customer.
"Our premium travellers deserve the very best service and comfort, whether they are joining us for a short or long flight, we want them to take pleasure in their time on board with Qatar Airways."
Qatar Airways also recently announced an exclusive three-year partnership with BRICS and Castello Monte Vibiano Vecchio to provide new amenity kits and products to Business and First Class travellers on long-haul flights.
Rossen Dimitrov, Qatar Airways' Senior Vice President of Customer Experience, said: "Qatar Airways' amenity kits are a gift to our passengers, as well as a practical travel accessory for their flight, and the Nappa Dori amenity kits are a beautiful token with which to welcome our premium passengers on board short and medium haul flights.
"The new amenity kits celebrate both Qatar Airways and Nappa Dori's commitment to innovation and providing bespoke service, and offer our travellers a keepsake by which to remember their journey with us."
Gautam Sinha, the Founder and Creative Director of Nappa Dori, added: « We are extremely proud of the association with Qatar Airways as the brand resonates similar values of craftsmanship through its service philosophy. In a similar vein to Qatar Airways, Nappa Dori is an aspirational brand that engages with the desires of refined travellers and connoisseurs of travel."
About Qatar Airways :
Qatar Airways, the national carrier of the State of Qatar, is one of the fastest growing airlines operating one of the youngest fleets in the world. Now in its 19th year of operations, Qatar Airways has a modern fleet of 192 aircraft flying to more than 150 key business and leisure destinations across six continents.
A multiple award-winning airline, Qatar Airways was awarded World's Best Business Class; Best Business Class Airline Lounge and Best Airline Staff Service in the Middle East at the prestigious 2016 World Airline Awards managed by international air transport rating organisation Skytrax.
Qatar Airways is a member of the oneworld global alliance. The award-winning alliance was named the World's Best Airline Alliance 2015 by Skytrax for the third year running. Qatar Airways was the first Gulf carrier to join global airline alliance, oneworld, enabling its passengers to benefit from more than 1,000 airports in more than 150 countries, with 14,250 daily departures.
Oryx One, Qatar Airways' inflight entertainment system offers passengers up to 3,000 entertainment options from the latest blockbuster movies, TV box sets, music, games and much more. Passengers flying on Qatar Airways flights served by its B787, A350, A380, A319 as well as select A320 and A330 aircraft can also stay in touch with their friends and family around the world by using the award-winning airline's on-board Wi-Fi and GSM service.
Qatar Airways is one of the world's leaders in sponsoring global sporting events, including the strategic team sponsorships of FC Barcelona and Al-Ahli Saudi Arabia FC. Qatar Airways' strategy reflects the values of sports as a means of bringing people together, something at the core of the airline's own brand message – Going Places Together.
Qatar Airways Cargo, the world's third largest cargo carrier, serves more than 50 exclusive freighter destinations worldwide via its Doha hub and also delivers freight to more than 150 key business and leisure destinations globally on 192 aircraft. The Qatar Airways Cargo fleet now includes eight Airbus 330Fs, 11 Boeing 777 freighters and one Boeing 747 freighter.
For further information contact:
Qatar Airways Group, Corporate Communications Department
Tel: +974 4022 2200, Fax: +974 40225350
E-mail: qrmedia@qatarairways.com.qa
Visit our homepage www.qatarairways.com or our sites on Facebook, Twitter, Google+, Instagram, and YouTube.
For Qatar Airways corporate images, please click here: http://www.qatarairways.com/corporateimages